Souiumono
(サウイフモノ) are a roleplay game-based visual kei band, formed in 2011. They started off as a trio, with vocalist SACCI, guitarist Donkey, and bassist Nuppe, and had a unique concept that had the members paint themselves as blue men. In 2012, the band gained a new lineup and went with a new RPG-based concept, similar to that of
Psycho le Cemu
.
At their December oneman live, "大忘年会クエスト", at Ikebukuro BLACK HOLE, Souiumono announced that they will disband after their oneman live tour, "GAME OVER" tour final at Takadanobaba AREA on April 10, 2016. Staying true to their RPG concept, the band cited that the reason was because "the demon boss is defeated, the curse is dispelled, and their quest is cleared, as peace is restored to the world". Before then, they will release their final album, GAME OVER, on February 10, 2016.
Former members
Edit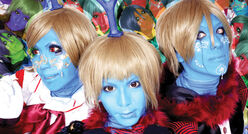 Discography
Edit
[2012.06.26] Sister Mura
[2012.09.26] Kubihaneru tsurugi - Doku messzylinder
[2012.12.12] Mada Konai ANGEL
[2013.05.15] Satsujinki no Sumu Machi
[2013.10.09] Daikirai na kono hoshi ni umarete
2014.07.23 Manatsu no Summer Tiger
2014.11.12 SERAPHIM-追想の翅
2015.03.18 UN-DEADHOUSE
2015.08.19 BOMB×BOMB×BOMB
Omnibus albums
Edit
2013.10.02 V-ANIME ROCKS evolution
References
Edit
Ad blocker interference detected!
Wikia is a free-to-use site that makes money from advertising. We have a modified experience for viewers using ad blockers

Wikia is not accessible if you've made further modifications. Remove the custom ad blocker rule(s) and the page will load as expected.