プラセボ
AKA
Placebo
Status
indies, disbanded
Origin
Tokyo
Years
2013-2015
Genres
Rock
Labels
Licht Entertainment
Website
OHP (defunct)
プラセボ (placebo) were a short-lived visual kei band, first formed as a duo on July 11, 2013, with support members. They would then become a full-fledged band with a new lineup in April 2014, as they signed under the label, Licht Entertainment, owned by ex-NEGA guitarist Ray. However, this would be short-lived, as Placebo would later disband after their live at Birth Shinjuku on February 25, 2015. Afterwards, guitarist hina would later team up with producer Ray to form the band, Dead Children.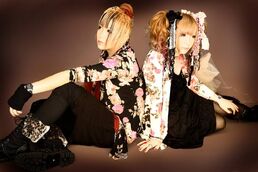 Former support members
Edit
Discography
Edit
2013.09.02 キミヲモウトキ (live-limited)
References
Edit
Ad blocker interference detected!
Wikia is a free-to-use site that makes money from advertising. We have a modified experience for viewers using ad blockers

Wikia is not accessible if you've made further modifications. Remove the custom ad blocker rule(s) and the page will load as expected.