aie
Profile
Aliases
Yui 悠依 (199? - 1997)
Dai Mase 間瀬 大 (design works)
Date of birth
September 26, 1977
Birthplace
Nagoya
Bloodtype
O
Activity
Years active
199? - present
Current band
KEEL, highfashionparalyze, THE MADCAP LAUGHS
Occupation
guitarist, vocalist, composer, graphic designer, barman at Shinjuku LOFT
Instruments
guitar
Website
aie-official.blogspot.jp
Band History
Edit
Session bands
Edit
As support member
Edit
KISUIプロジェクト - 2002 (guitar, composer)
aki - 2005 (live guitar)
C4 - August 27 2011 (live guitar)
JILS - November 11th 2011 ~ March 30th 2013
david skull no records - produced works of deadman, the god and death stars and design works for most of aie's bands (usually credited as Dai Mase 間瀬大)
Godbar ゴッドバー - occasional barman work at the Shinjuku LOFT bar "THE LOFT".
Band Chronology
Edit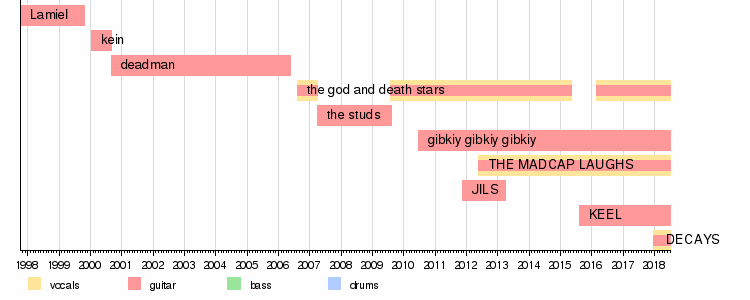 Discography
Edit
Guest Appearances
Edit
Ad blocker interference detected!
Wikia is a free-to-use site that makes money from advertising. We have a modified experience for viewers using ad blockers

Wikia is not accessible if you've made further modifications. Remove the custom ad blocker rule(s) and the page will load as expected.