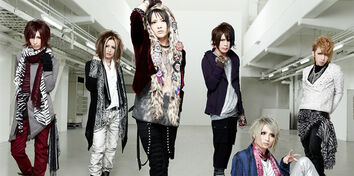 Blu-BiLLioN is a visual kei band that formed in August 2010, they are signed on to Resistar Records. their drummer, Seika was the one who brought the band together.
Vocals: Mike (ミケ)
→すうぃーぷ☆ザ☆ぼーど → the Riotts. → Blu-BiLLioN
Guitar: So-ya (宗弥) (joined in 2011)
→ ドロップ → Blu-BiLLioN
Guitar: Mag
→ Blu-BiLLioN
Keyboard: Teru
→ Blu-BiLLioN
Bass: Haku (拍)
→ VAL+IX+LIA → Nero→ バビロン → Moran (support)→ Blu-BiLLioN
Drums: Seika
Former Members
Edit
Guitar: Tatsuya (left in 2011 due to personal reasons)
→Vogus Image→CANDY TRIP (support)→Blu-BiLLioN
In February, Reika had the idea of starting a band titled "Blu-Billion", months later, in August, the band was formed with members Mike, Mag, Teru, Haku, Reika, and Tatsuya. Their debut was a live event held on August 9th. Their first single, "Count Down" was released on October 20th.
On January 26th, their second single, "Colours" was released. Shortly after, their guitarist Tatsuya announced he would be leaving the band due to personal reasons. Following the departure of Tatsuya, It was announced that Blu-Billion had found a new guitarist, So-ya. They also announced their first mini-album, Everlasting BLUE, it was released May 29th.

In January, they announced their third single, "With Me", it was released February 29th.
In August, Blu-Billion announced two new singles, "Will" and "Mosaic", Will was released on October 10th, while Mosaic was released on November 14th, also in November they announced another new single titled "Heart Fractale" (ハートフラクタル), it will be released March 6th, 2013.
Ad blocker interference detected!
Wikia is a free-to-use site that makes money from advertising. We have a modified experience for viewers using ad blockers

Wikia is not accessible if you've made further modifications. Remove the custom ad blocker rule(s) and the page will load as expected.