Deshabillz
AKA
螺旋ウィルス (Rasen Virus, in the last album)
Spelling
デザビエ
Status
indies, disbanded (2008)
major (1997-1998)
indies (1992-1997)
Origin
Yokohama, Kantō
Years
1992 - 1998
1999 (as 螺旋ウィルス)
2008 (revival)
Genres
Gothic Rock, Visual Rock
Labels
UNDER CODE PRODUCTION (2008)
Atlantic East-West Japan (1997-1998)
Tears Music (1996)
Monster EP (1994-1995)
Related
Domestic†Child
JE*REVIENS
CANARY
GUST
Deshabillz is one of the most representative bands of visual kei. They were the lead band of the Yokohama visual scene back in the '90s. Leader of the band was vocalist SHUN, author of all lyrics and artistic director of the band concept, characterized by dark and melancholic (often disturbing) images. His highly original and complex lyrics can be considered examples of decadent poetry. Main composer was the talented guitarist SHI-NO, his song ranged from gothic rock ballads to post-punk fast songs driven by his somewhat baroque guitarwork. The band name comes from the French word "déshabillez", meaning devoid, deprived or stripped.
Biography
Edit
Former members
Edit
Revival Lineup (2008)
Edit
Lineup Chronology
Edit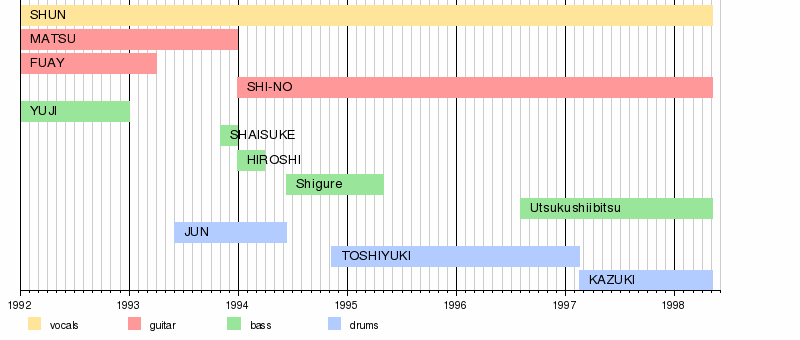 Discography
Edit
All singles before the 2008 revival were distributed at concerts:
Demo tapes
Edit
Compilation albums
Edit
Boxed sets
Edit
Omnibus albums
Edit
External links
Edit
Ad blocker interference detected!
Wikia is a free-to-use site that makes money from advertising. We have a modified experience for viewers using ad blockers

Wikia is not accessible if you've made further modifications. Remove the custom ad blocker rule(s) and the page will load as expected.