Happy life
Maxi-Single by MERRY
Format
CD (regular edition)
CD+DVD (Limited Edition)
Release Date
August 5, 2015
Recorded in
studio SUNSHINE
Five Tree Studio
STUDIO BLOOM
Length
09:33
Genre
rock
Label
Firewall Div.
Sony Music Distribution
Catalog Number
SFCD-0156
Price
1300 yen (regular edition)
2500 yen (limited edition)
Producer
MERRY
Chart peak
#56
Happy life is the 29th single released by MERRY on August 5, 2015.
Track listing
Edit
Regular edition
Edit
Limited edition
Edit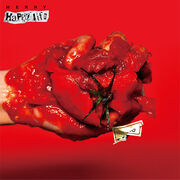 Grateful Year 2015「NOnsenSe MARkeT B1」2015.02.27 Shimokitazawa CLUB QUE
NOnsenSe MARkeT
不均衡キネマ (fukinkou kinema)
暗闇にピンク (kurayami ni pink)
罪 (tsumi)
Zombie Paradise~地獄の舞踏曲~ (jigoku no butoukyoku)
stupid×cupid
sweet powder
千代田線デモクラシー (chiyudasen democracy)
「東京」 (tokyo)
Carnival
梟 (fukurou)
群青 (gunjou)
Vocal: ガラ
Guitar: 結生
Guitar: 健一
Bass: テツ
Drums: ネロ
Producer: MERRY

Recording & Mixing Engineer: Koji Maruyama
Assistant Engineer: Shintaro Okamoto (STUDIO BLOOM), Hiromu Yasumoto (studio SUNSHINE)
Recording Studio: studio SUNSHINE, Five Tree Studio, STUDIO BLOOM
Drums Tuner: Atsuto
Organ: Ryo Deguchi (Trick Company)
Mastering Engineer: Tsubasa Yamazaki (Bernie Grundman Mastering)
Mastering Studio: Bernie Grundman Mastering
Collaboration Artist: 増子直純 (怒髪天) by the courtesy of Imperial Records TEICHIKU ENTERTAINMENT.INC. [M-3]

Art Direction & Art Design: Satoshi Mizuno (Firewall Div.)
Art Design: Mutsumi Watanabe (Firewall Div.)
Photographer: Teppei Kishida
Stylist: Saki Hiramatsu
Hair & Makeup: Mikitaro Watanabe

A&R Director: Hideki Furuta (Firewall Div.)
Artist Promotion: Emiko Kakechi (Firewall Div.)
Press & Media Coordinator: Jun Watanabe, Yukari Ohga (Firewall Div.)
Content Development: Yusuke Kuwano, Yasunori Takashima, Maya Yamanaka (Firewall Div.)
Sales Promotion: Toshiyuki Ohasbi, Ko Sugimoto, Tomoko Takahashi (SMM), Seinosuke Kawamoto (Firewall Div.)

Artist Management: Hajime Nishio (sun-krad)
Merchandiser: Masahiko Oyamada, Hiroko Hirayama (sun-krad)
MERRY MEMBERS' CLUB CORE: Midori Kimura, Ai Ueyama, Jung Mina (sun-krad)

Label Manager: Daishi Fujimoto (Firewall Div.)
Executive Producer: DYNAMITE TOMMY (sun-krad)
Ad blocker interference detected!
Wikia is a free-to-use site that makes money from advertising. We have a modified experience for viewers using ad blockers

Wikia is not accessible if you've made further modifications. Remove the custom ad blocker rule(s) and the page will load as expected.