Heaven's Novel
single by Megaromania
Format
CD&DVD (type A)
CD (type B)
Release Date
December 12, 2012
Recorded in
Pacific STUDIO
Length
13:16 (type B)
Genre
Melodic metal
Label
UNDER CODE PRODUCTION
Catalog Number
UCCD-329A
UCCD-329B
Price
3150 yen (type A)
1890 yen
Producer
Megaromania
KISAKI
Chart peak
#185
Heaven's Novel is the 14th and final single of visual kei band Megaromania. This single was part of the Ultimate Concept Single saga along with its predecessor Propaganda.
Track listing
Edit
Bonus DVD
Heaven's Novel (PV)
「Europe tour 2012」 ドキュメント後編
("Europe tour 2012" Document Kouhen)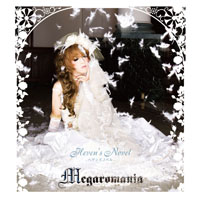 Recording & Mixing Studio: Pacific STUDIO
Recording & Mixing Engineer: Masayuki Ishiwata
Mastering Studio: Tokyo Rec Co.Ltd.
Mastering Engineer: Hiroshi Shiota
Guitar Technician: ESP
Chorus: 翠
Management Office: UNDER CODE PRODUCTION
Official Staff: Tomomi Maekawa, Takashi Yamada (UNDER CODE PRODUCTION)
Project Coordinate: Hiroshi Seya, Yusuke Yamaguchi (UNDER CODE PRODUCTION)
A&R: Sachio Fukami (UNDER CODE PRODUCTION)
Road Crew: Kyohei (zechs)
Hair Make: Tritt fur Tritt
Costume: ID-JAPAN
Costume Designer: Sawako Sato (ID-JAPAN)
Costume Supervisor: Hidefumi Sato (ID-JAPAN)
Photographer: Akio Yokoyama
Graphic Designer: Aki Okamura (KSl)
Distribute: FREE WILL DISTRIBUTION
Distribution Producer: Motomitsu Aki, Seinosuke Kawamoto (FREE WILL)

Total Produced: Tadashi "KISAKI" Matsuura (UNDER CODE PRODUCTION)

Ad blocker interference detected!
Wikia is a free-to-use site that makes money from advertising. We have a modified experience for viewers using ad blockers

Wikia is not accessible if you've made further modifications. Remove the custom ad blocker rule(s) and the page will load as expected.