九条武政
Profile
Aliases
九条武政 (Kujo Takemasa)
ビューティー多摩 (Beauty Tama) (My Dragon)
Takemasa → たけまさ → 武政
Date of birth
August 3rd
Bloodtype
B
Activity
Years active
200?-present
Current band
Kiryu
Occupation
guitarist
Instruments
guitar
Website
Blog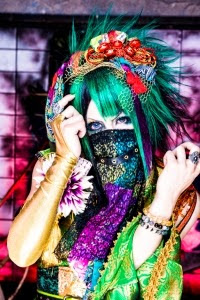 Kujo Takemasa (九条武政) is the guitarist and leader of the Japanese Visual Kei band, Kiryu and its alter-ego, My Dragon as Beauty Tama. His image color is green.
He was previously a guitarist of Mizeria, and Kurara Zeroshiki, along with fellow bandmate,
Sakai Mitsuki
.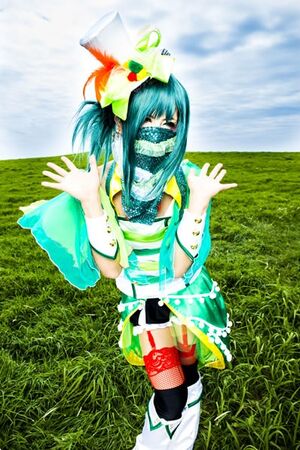 Band history
Edit
Name: Kujou Takemasa (九条武政)
Nicknames: Kujo-san, Negi-Senpai
Past Bands: Mizeria, Kurara Zeroshiki
Fan Email: takemasa@kiryu-web.net
He usually keeps his face covered with a facial mask, or bandana.
Discography
Edit
Albums
Singles
[2008.05.20] Another Side (アナザーサイド)
[2008.10.29] Shishoku / Saigo no Koi (紫蝕 / 最後ノ恋; Violet Eclipse / Last Love)
[2009.05.06] Akaku Chiru Boku no Ao (朱ク散ル僕ノ蒼; The Red Is Blurring My Blue)
[2009.10.21] Tsuki no Hime (月ノ姫; Moon Princess)
[2010.06.23] Minazakura (水無桜; The Waterless Month's Cherry Blossoms)
[2010.10.27] Ruru (屡流; Frequent Current)
[2011.07.06] Kisai (鬼祭; Demon Festival)
[2011.10.26] Kyosei (叫声; Shouting Voice)
[2012.11.07] Tomoshibi (灯; Light)
[2013.02.20] Etsu to Utsu (悦ト鬱)
[2013.05.29] Aienkien (愛怨忌焔)
[2013.11.27] Akai mi hajiketa
[2014.11.19] Amaterasu (天照)
2015.04.01] Kyuubi (九尾)
with My Dragon
Edit
[2011.02.02] Nijigen Complex
2013.06.02 ひと夏のアバンチュール (live limited)
2014.07.02 Idol Sengen?!
External Links
Edit