Moi dix Mois is the solo project of former MALICE MIZER guitarist Mana.
Biography
Edit
Moi dix Mois were announced as Mana's solo project on his birthday, March 19th 2002. The project included vocalsit Juka and bassist Kazuno, while Tohru was only reported as a support member on drums. Their first concert was held at SHIBUYA-AX on July 31st at the event "Dis inferno", which was produced by Mana's fashion brand Moi-même-Moitié. The release of their first single Dialogue Symphonie and national tour forbidden shortly after. The first full-length Dix infernal was released again on Mana's birthday the following year. The final gig of the tour for Dix infernal was filmed for a DVD release.
In May 2004 Tohru becomes an official member of the project and the single Shadows Temple, from the album NOCTURNAL OPERA, is released. Mysterious member Shadows X was listed as second vocalist in the booklet. He would appear on most of Moi dix Mois future releases and he is rumored to be Mana himself.
NOCTURNAL OPERA marked the start of Mana's activities overseas. He appeared as a special guest on Japan Expo in Paris in July 2004 and also opened the international division of his fanclub Mon Amour. On December 15th guitarist and death vocalist K appeared as a new member. With this lineup Moi dix Mois would go on the tour Invite to immorality, with performances in Japan, France and Germany in March and April 2005. At the final gig of this tour Juka left the band after a sudden announcement.
Moi dix Mois went on hiatus for a few month. On their fanclub magazine it was reported that Kazuno and Tohru had left the project in September 2005, leaving Mana, K and a yet undisclosed new vocalist as the only remaining members. Mysterious vocalist Seth (confirmed but never officially announced to be SEIJI from Brain Hacker) was then announced and with this three member lineup Moi dix Mois released the mini-album Beyond the Gate. They toured Europe and Japan again from March to May 2006 with Sugiya and Hayato respectively on bass and drums as live support musicians. They would later become official members as well, even though an official statement was never made.
The single Lamentful Miss in October was the first with the new five member lineup. For their new album DIXANADU they extensively toured Europe and became particularly popular overseas. They then slowed down their activities from 2008 having gigs only every few months and hardly releasing new material. In 2012 they celebrated their tenth anniversary with a series of concerts and the remake album Reprise. This was the first release not to be produced by Mana's historical label Midi:Nette. It seems that Midi:Nette ceasing to exist after the collaboration with executive producer Yukie Ito (who was producing Mana's works on Midi:Nette since his days in MALICE MIZER) ended. For the last concert of the Le dixieme anniversaire tour on March 20th 2013, Moi dix Mois' original lineup appeared on stage once more with Juka, Tohru and Kazuno as well as the current members.
K was found dead at his house on May 19th 2014, and in December former OMEGA DRIPP guitarist took his position. In 2015 Moi dix Mois have been reported writing and recording new songs for a future album release.
Mana
Guitar, Programming

→ Ves.tearge → GIRL'E → 摩天楼 → MALICE MIZER → Moi dix Mois

Seth
Vocals (2005.12 - present)

→ AFTER IMAGE → AMADEUS → AC BLANDISH → BUZZ → Brain Hacker → Moi dix Mois → Moi dix Mois, Art Cube → Moi dix Mois, SHAPE SHIFTER

Ryux
Guitar, Chorus (2015.12.07 - present)
→ OMEGA DRIPP → THE VICKERS, HËYT, Moi dix Mois, Amplifier
Sugiya
Bass (2016.03.11 - present)
→ PlatinA Forest → Vanilla → GHOST MOUSE CLUB, KuRt (support) → Moi dix Mois
Hayato
Drums (2006.03.11 - present)
→ ジュウジカ → Blüe → BUZZ → oxide → JILS (support) → Moi dix Mois, ENDLESS (support), draw the perspective
Former MembersEdit
K
Guitar, Vocals (2004.12.15 - 2014.05.19)

→ Ru~ne → GRAND ZERO → Moi dix Mois → 刺四, Moi dix Mois, Art Cube (support) → Moi dix Mois

Tohru
Drums (2004.5.31 - 2005.12), Support Drums (2002.3.19 - 2004.5.31)
→ Merry Go Round → ANTIC DOLL → CLAUDIA → Merry Go Round (support) → JILS → Moi dix Mois (support) → Moi dix Mois, dibs → aki → PROJECT TO EVIL
Kazuno
Bass (2002.3.19 - 2005.12)
→ Moi dix Mois → Juka (support) → PROJECT TO EVIL
Juka
Vocals (2002.4.19 - 2005.4.24)
→ Moi dix Mois → HIZAKI grace project → Juka, Node of Scherzo, HIZAKI grace project → XOVER → VII-Sense
Lineup ChronologyEdit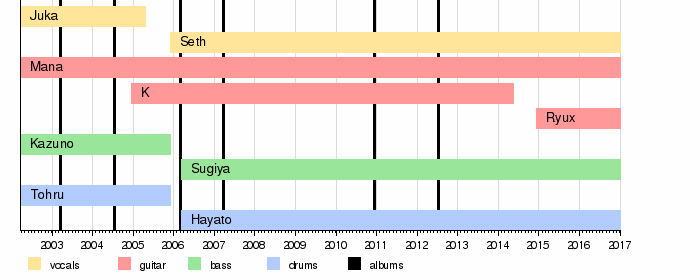 Discography
Edit
All music and lyrics by Mana.
Dix infernal
full-length

(2003.3.19)

Tracklist

Dix infernal
La dix croix
front et baiser
Ange
tentation
Solitude
Pessimiste
Gloire dans le silence
L'intérieur Dix
Détresse
Prière
Dialogue Symphonie-x
Dis est infini

Notes

First press with special package.
Released in France by Mabell in 2004.

NOCTURNAL OPERA
full-length

(2004.7.20)

Tracklist

Invite to Immorality
Nocturnal Romance
monophobia
vestige
Vizard
Mephisto Waltz
MAD INGRAIN
the Prophet
Perish
Shadows Temple-x
silent omen

Notes

First press in slipcase.
Released in Europe by Trisol on December 2nd 2005 with all previous singles in a bonus disc.

Beyond the Gate
mini-album

(2006.3.1)

Tracklist

The other side in blood
Eternally Beyond
deus ex machina
Vain
Deflower
unmoved
The other side of the door
Eternally Beyond (Instrumental)
deus ex machina (Instrumental)
Vain (Instrumental)
Deflower (Instrumental)
unmoved (Instrumental)

Notes

Release in Europe by GAN SHIN Records.
Japanese limited edition and European edition feature instrumental versions as bonus tracks.

DIXANADU
full-length

(2007.3.28)

Tracklist

dispell bound
Angelica
Metaphysical
exclude
Last Temptation
Immortal Madness
neo pessimist
Xanadu
A Lapis Night's Dream
Lamentful Miss
Lilac of Damnation
sacred lake

Notes

Released in Europe by Trisol on May 4th 2007 with the single Lamentful Miss as a bonus disc.
A limited edition was released in Japan in August 2007. All tracks were instrumental.

D+SECT
full-length

(2010.12.15)

Tracklist

In Paradisum
The Seventh Veil
Witchcraft
The SECT
Divine Place
Pendulum
The Pact of Silence
Ange~D side holy wings
Agnus Dei
Sanctum Regnum
Dead Scape
Dies Irae
Baptisma

Reprise
remake album

(2012.7.11)

Tracklist

En Lumière
Dialogue Symphonie
front et baiser
Solitude
the Prophet
Invite to Immorality
Nocturnal Romance
Vestige
La dix croix
Secret longing
Pageant
Je l'aime
Dialogue Symphonie
single(2002.11.19)

Tracklist

Dialogue Symphonie
forbidden
Dialogue Symphonie (Instrumental)
forbidden (Instrumental)

Shadows Temple
single(2004.5.31)

Tracklist

Shadows Temple
Night breed
Shadows Temple (Instrumental)
Night breed (Instrumental)

Pageant
single(2004.10.6)

Tracklist

Secret Longing
Pageant
Pageant (Instrumental)

Lamentful Miss
maxi-single(2006.10.4)

Tracklist

Lamentful Miss
Perish
forbidden
Lamentful Miss (Instrumental)
Perish (Instrumental)
forbidden (Instrumental)
Dix infernal -Scars of sabbath-
live DVD

(2003.12.6)

Tracklist

Dix infernal
Gloire dans le silence
Night breed
MAd iNgrAin
Pessimiste
Front et baiser
Solitude
Tentation
Spiral
Dialogue Symphonie
Priére
L'intérieur Dix
Détresse
Ange
Pagent
Perish
Vizard
forbidden
La dix croix
Dix est infini
~Memoirs~ Tour2002 forbidden
Tour2003 Dix Infernal
06/04/2003 AKASA BLITZ

Notes

Released in France by Mabell in 2004.

Europe Tour 2005 -Invite to Immorality-
live DVD

(2005.7.27)

Tracklist

silent omen
the Prophet
front et baiser
MAD INGRAIN
Night breed
unmoved
Pessimiste
Vestige
Invite to Immorality - Nocturnal Romance
Perish
Mephisto Waltz
Dialogue Symphonie 
Vizard
Ange
forbidden
La dix croix
Shadow Temple
Monophobia
Pageant
silent fear     
Ending 

Bonus Disc (Limited Edition)

March 26th München Concert Documentary
March 28th Paris Concert Documentary
The Memory of Mana The Day in München
The Memory of Mana The Day in Paris
Image Shooting
Japan Expo & Photografic Magnifique Shooting
Europe Tour 2005 -Invite To Immorality- Final April 24th SHIBUYA-AX Digest

DIXANADU ~Fated "raison d'être"~ Europe Tour 2007
live DVD

(2008.1.30)

Tracklist

Sacred Lake
Metaphysical
exclude
Night breed
Vain
A Lapis Night's Dream
Lamentful Miss
Last Temptation
Perish
dispell bound
Angelica
Immortal Madness
unmoved
Neo Pessimist
Vizard
forbidden
Xanadu
Lilac of Damnation
deus ex machina
Sacred Lake
Ending
DIXANADU~Fated"raison d'être"~Europe Tour 2007 Documentary
Audio Commentary
DIXANADU~Fated"raison d'être"~Europe Tour 2007 Live In Paris Documentary

Notes

Released in Europe by Trisol
Omnibus albumsEdit
2006.03.31 Orkus Presents: The Best Of 2005
2006.11.24 13th Street - The Sound Of Mystery 2
References
Edit
External links
Edit
Ad blocker interference detected!
Wikia is a free-to-use site that makes money from advertising. We have a modified experience for viewers using ad blockers

Wikia is not accessible if you've made further modifications. Remove the custom ad blocker rule(s) and the page will load as expected.