Saigo no Bansan
(最後ノ晩餐; The Last Supper) is
Grieva
's first single, which is set to be released June 26, 2013.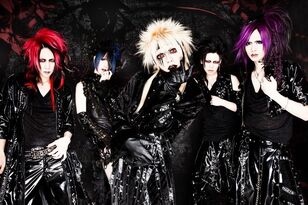 The single will include a CD and DVD, which will have a PV for the song "Amai Unou, Akai Sanou"
Tracklist
Edit
1. 甘イ右脳、赭イ左脳 (Amai unou, akai sanou)
2. 悦楽的自虐妄想癖な僕の事情 (Etsurakuteki jigyakumousouheki na boku no jijou)
3. 毒-ドク- (Doku)
4. Wish
Ad blocker interference detected!
Wikia is a free-to-use site that makes money from advertising. We have a modified experience for viewers using ad blockers

Wikia is not accessible if you've made further modifications. Remove the custom ad blocker rule(s) and the page will load as expected.