酒井参輝
Profile
Aliases
酒井参輝 (Sakai Mitsuki)
チャリティー三城 (Charity Miki) (My Dragon)
魅月→ ミツキ (Mitsuki)
Date of birth
February 24
Birthplace
Shizuoka prefecture
Bloodtype
B
Activity
Current band
Kiryu
Occupation
guitar
Instruments
guitarist
Website
Blog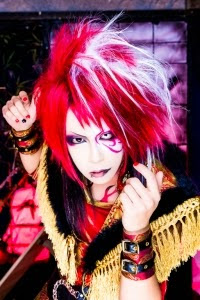 Sakai Mitsuki
(酒井参輝) is the guitarist of
Kiryu
. He is also in their alter-ego band My Dragon as "Charity Miki". His image color is Red.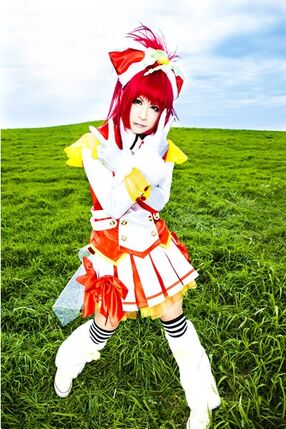 Band history
Edit
Name: Sakai Mitsuki (酒井参輝)
Part: Guitar
Past Bands: Mizeria, Kurara Zeroshiki
Birthdate: February 24th
Blood Type: B
Hometown: Shizuoka Prefecture
Fan Email: mitsuki2@kiryu-web.net
Discography
Edit
Albums
Singles
[2008.05.20] ANOTHER SIDE (アナザーサイド)
[2008.10.29] Shishoku / SAIGO NO KOI (紫蝕 / 最後ノ恋; Violet Eclipse / Last Love)
[2009.05.09] AKAKU CHIRU BOKU NO AO (朱ク散ル僕ノ蒼; The Red Is Blurring My Blue)
[2009.10.21] TSUKI NO HIME (月ノ姫; Moon Princess)
[2010.06.23] Minazakura (水無桜; The Waterless Month's Cherry Blossoms)
[2010.10.27] Ruru (屡流; Frequent Current)
[2011.07.06] Kisai (鬼祭; Demon Festival)
[2011.10.26] Kyosei (叫声; Shouting Voice)
[2012.11.07] Tomoshibi (灯; Light)
[2013.02.20] ETSU TO UTSU (悦ト鬱; Self-Satisfaction and Depression)
[2013.05.29] Aien Kien (愛怨忌焔; Flame of Love, Hate, & Sorrow)
[2013.11.27] AKAI MI HAJIKETA (Red Exploited Body)
[2014.11.19] Amaterasu (Sun Goddess)
[2015.04.01] Kyuubi (Ninetail)
with My Dragon
Edit
[2011.02.02] Nijigen Complex
2013.06.02 ひと夏のアバンチュール (live limited)
2014.07.02 Idol Sengen?!
External Links
Edit