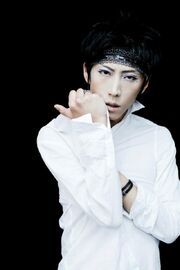 Shota
was the guitarist of the "Neosexual" rock duo ADAMS from 2011 to 2015, as well as the owner of the "HIGHFEEL" record label.
Biography
Edit
On November 28, 2015 Shota suffered a stroke on stage during a concert in Warsaw, Poland and was immediately rushed to the hospital where he passed away in his sleep on November 30, 2015.
According to a Facebook post from ADAMS vocalist Adam, Shota "continued to fight for 36 hours but has now left us for a place far away. He fell on stage while holding his microphone and singing our debut single "Dizzy love". Even while falling and losing consciousness he continued singing."
He is survived by his wife Aurélie.