VaniKilL
AKA
ヴァニキル (2015-2016)
D'SKO (2011-2015)
Dancing Screamer Kittenish Orchestra
Spelling
ヴァニキル (Vanikill)
ディスコ (D'SKO)
Status
indies, hiatus
Origin
Tokyo
Years
2016
2011-2016 (hiatus)
Genres
Visual rock
Labels
S'CUBE
Related
MELISSA
haunted
Website
New OHP
Old OHP (archived)
VaniKilL are a visual kei band, formed on December 9, 2011. They first went under the name D'SKO, until they changed their name and concept on January 23, 2015, while also adding a new guitarist, Mel (ex-Vice).
After vocalist Sito's departure on October 14, 2015, Vanikill went on hiatus after their live at Shibuya REX on January 24, 2016. Shortly afterwards, they returned with a slightly revamped lineup in March that same year, as guitarist Hisaki took over as vocalist, while new bassist Nazna joined the band.
Former members
Edit
なずな (nazna) - Bass (2016.03.02-2016.7.27)
→ VaniKilL
Discography
Edit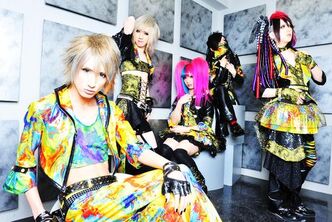 2011.11.11 極彩地底パラダイス (free distribution)
2012.01.23 トラブルメーカー (free distribution)
2012.01.23 Winners' D'sko Ultimate
2012.09.13 絶望メルト
2012.10.26 ShiningRain
2013.03.08 ディスコサイズ~狂いだした僕の妄想~
2013.11.08 GallowsHumor
2014.01.23 Re:alba
as Vanikill
Edit
2015.01.23 絶望メルト
2015.10.14 Last Message...
Ad blocker interference detected!
Wikia is a free-to-use site that makes money from advertising. We have a modified experience for viewers using ad blockers

Wikia is not accessible if you've made further modifications. Remove the custom ad blocker rule(s) and the page will load as expected.