Visper
Spelling
ヴィスパー
Status
indies, active
Origin
Kyushu
Years
2015.05.17-present
2013.01 - 2015.02.20 (hiatus)
Labels
Libra Management Inc. (2015.03-present)
MASTERPIECE PRODUCTION (2013-2015)
Related
De'alm
Website
New OHP
Old OHP
Visper are a Visual Kei band, formed in January 2013. They released their first mini album on February 25th, 2013.
The band went on a hiatus after their live at Fukuoka DRUM Be-1 on February 20, 2015. They commenced activities on May 17 at their live at Fukuoka DRUM SON, as guitarist Ryuka and drummer alvka joined the band.
ViVi - Vocals
→ Labbit×Loud柄 → Visper
遊 (Yuu) - Guitar
→ De'alm → Visper
リュカ (Ryuka) - Guitar (2015.05.17-present)
→ アノニマス → Visper
舞音 (Mao) - Bass
→ De'alm → Visper
alvka- Drums (2015.05.17-present)
→ Visper
Former members
Edit
夢童 (Mudou) - Drums
→ Kro:nos → Visper → (retired)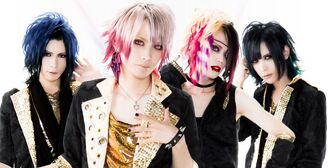 Discography
Edit
2013.12.xx 曖昧傘
2013.08.30 LOVE SICK
2013.06.26 ray
2014.06.18 Garbage
2015.07.29 Anonymous
External Links
Edit
Ad blocker interference detected!
Wikia is a free-to-use site that makes money from advertising. We have a modified experience for viewers using ad blockers

Wikia is not accessible if you've made further modifications. Remove the custom ad blocker rule(s) and the page will load as expected.