X JAPAN
AKA
X (1982 - 1992)
Spelling
エックス・ジャパン
Status
major, active
Origin
Tokyo, Kantō
Chiba, Kantō (early 80's)
Years
1982 - 1997
2007 - present
Genres
Heavy Metal
Thrash/Power metal (early)
Hard Rock
Pop
Progressive metal
Labels
Polydor (1997-8)
Atlantic East-West Japan (1994-6)
MMG (1993)
Ki/oon Records (1992)
Sony Music Entertainment (1989-91)
EXTASY RECORDS (1988)
Dada Records (1985-8)
Related
Violet UK
TOSHI
Ra:IN
HEATH
Website
http://xjapan.ne.jp
X JAPAN are one of the most legendary bands in the visual kei scene. The band was founded in 1982, but after many years of mainstream success, they disbanded in 1997. However, they were later revived on October 22, 2007 and continue to have a successful run today.
Biography
Edit
Former members
Edit
Lineup Chronology (X)
Edit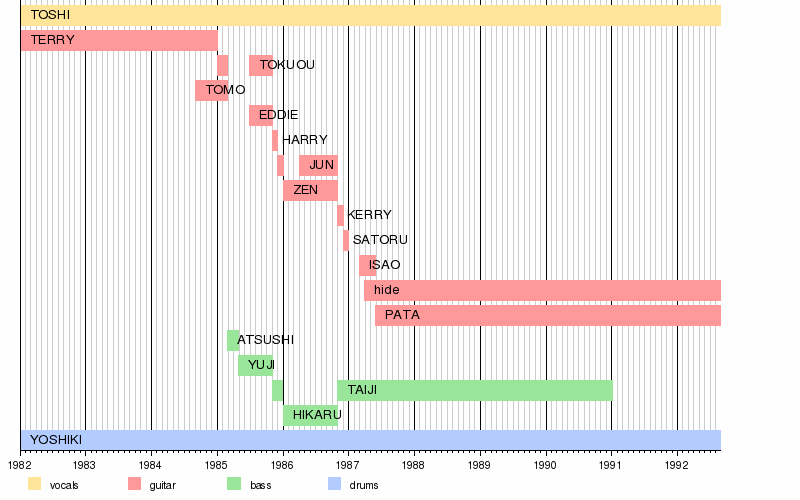 Lineup Chronology (X JAPAN)
Edit

Discography
Edit
Studio albums
Edit
Live albums
Edit
Demo tapes
Edit
Compilations
Edit
Boxed sets
Edit
Omnibus albums
Edit