ZERO -ゼロ-
Single by MERRY
Format
CD (regular edition)
CD+DVD (Types A+B)
Release Date
November 6, 2013
Recorded in
studio SUNSHINE
LD&K Studio
Length
10 minutes
Genre
rock
Label
Firewall Div.
Sony Music Distribution
Catalog Number
SFCD-0127
Price
1296 yen (regular edition)
1944 yen (limited edition)
Producer
京
Chart peak
#33
ZERO -ゼロ- is the 28th single released by MERRY on November 6, 2013.
Track listing
Edit
Regular edition
Edit
Limited edition (type A)
Edit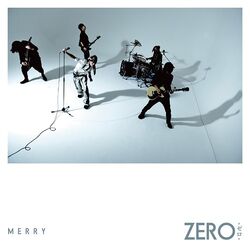 ZERO -ゼロ- (MUSIC VIDEO)
MAKING OF 「ZERO -ゼロ-」
Limited edition (type B)
Edit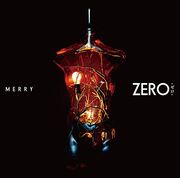 復活ドキュメント 20130213-20130810
Vocal: ガラ
Guitar: 結生
Guitar: 健一
Bass: テツ
Drums: ネロ
Recording Engineer: Koji Maruyama
Mixing Engineer: Tue Madsen, Koji Maruyama (track 3)
Assistant Engineer: Hiromu Yasumoto (studio SUNSHINE)
Recording Studio: studio SUNSHINE, LD&K Studio
Drums Tuner: Atsuto
Mastering Engineer: Hirokazu Inuyama
Mastering Studio: DOG-STUDIO.Ltd.

Art Direction & Art Design: Satoshi Mizuno (Firewall Div.)
Art Design: Toshio Sakurai (Firewall Div.)
Photographer: Rui Hashimoto (SOUND SHOOTER)
Stylist: Saki Hiramatsu
Hair & Makeup: Mikitaro Watanabe, Nana Nakagome (Octbre.)
A&R Director: Hideki Furuta (Firewall Div.)
Artist Promotion: Emiko Kakechi (Firewall Div.)
Press & Media Coordinator: Jun Watanabe, Yukari Ohga (Firewall Div.)

Web Designer: Haruka Nakagawa (Firewall Div.)
Content Development: Yusuke Kuwano (Firewall Div.)
Sales Promotion: Daitetsu Kuroki, Ko Sugimoto, Shiho Ohyama (SMD), Seinosuke Kawamoto (Firewall Div.)

Artist Management: Hajime Nishio (sun-krad)
Merchandiser: Masahiko Oyamada (sun-krad)
MERRY MEMBERS' CLUB CORE: Midori Kimura, Ai Ueyama (sun-krad)

Producer: 京

Label Manager: Daishi Fujimoto (Firewall Div.)

Executive Producer: DYNAMITE TOMMY (sun-krad)
Ad blocker interference detected!
Wikia is a free-to-use site that makes money from advertising. We have a modified experience for viewers using ad blockers

Wikia is not accessible if you've made further modifications. Remove the custom ad blocker rule(s) and the page will load as expected.